TAG PIPE BEVELLING MACHINE - PREP 20
(from 4″ to 20″)
The PREP 20 is an extremely powerful bevelling machine, designed to give long life and accurate weld preparations in tough in-situ or engineering workshop environments. Fully torque reacted throughout its complete range, it uses one centre heavy duty 4″ locking shaft with built in plug jaws for rapid set up. Change over time from one diameter to another is achieved quickly and simply. The PREP 20 is available in pneumatic or with a 3200 Watt heavy duty electric motor. Available in 110v or 220v power supply.
Download our TAG PREP 20 Machine Catalogue Here


TAG Pipe Bevelling Machine PREP 20
RANGE: 100 to 500mm i/d
Functions:
External Bevelling
Internal Bevelling
Facing
Counter-boring
Weld Removal
J-Prepping
Compound Bevels
Materials:
Any kind of Steel and Exotic Alloy
Power:
Pneumatic (option of Electric 110v or 220v)
Features & Advantages
The PREP 20 is the second in TAG's new range of a heavy duty mid-large diameter bevelling machines. Offering ratchet i/d jaw locking, as well as Ratchet bevel feed control for effortless heavy wall preps. Offered with a 3.5 HP Pneumatic boasting 7500Nm Torque or 3200 watt electric motor any bevel geometry can be performed within the impressive 4 - 20" range. J-preps, counter boring, and facing can all be performed, simultaneously, using the correct tooling fitted in (up to) 4 heavy duty hardened multi-position tool holders. Due to its light weight, yet unrivalled power, the PREP 20 is ideal for on-site, off shore, nuclear, and other applications were precision welds are required at an incredible value. The PREP 20, like the PREP 16 and PREP 24 utilise ratchet feed, and locking. This allows effortless setup, and enables the operator to deliver consistent feed with minimal effort.


TAG Pipe Bevelling Machine PREP 20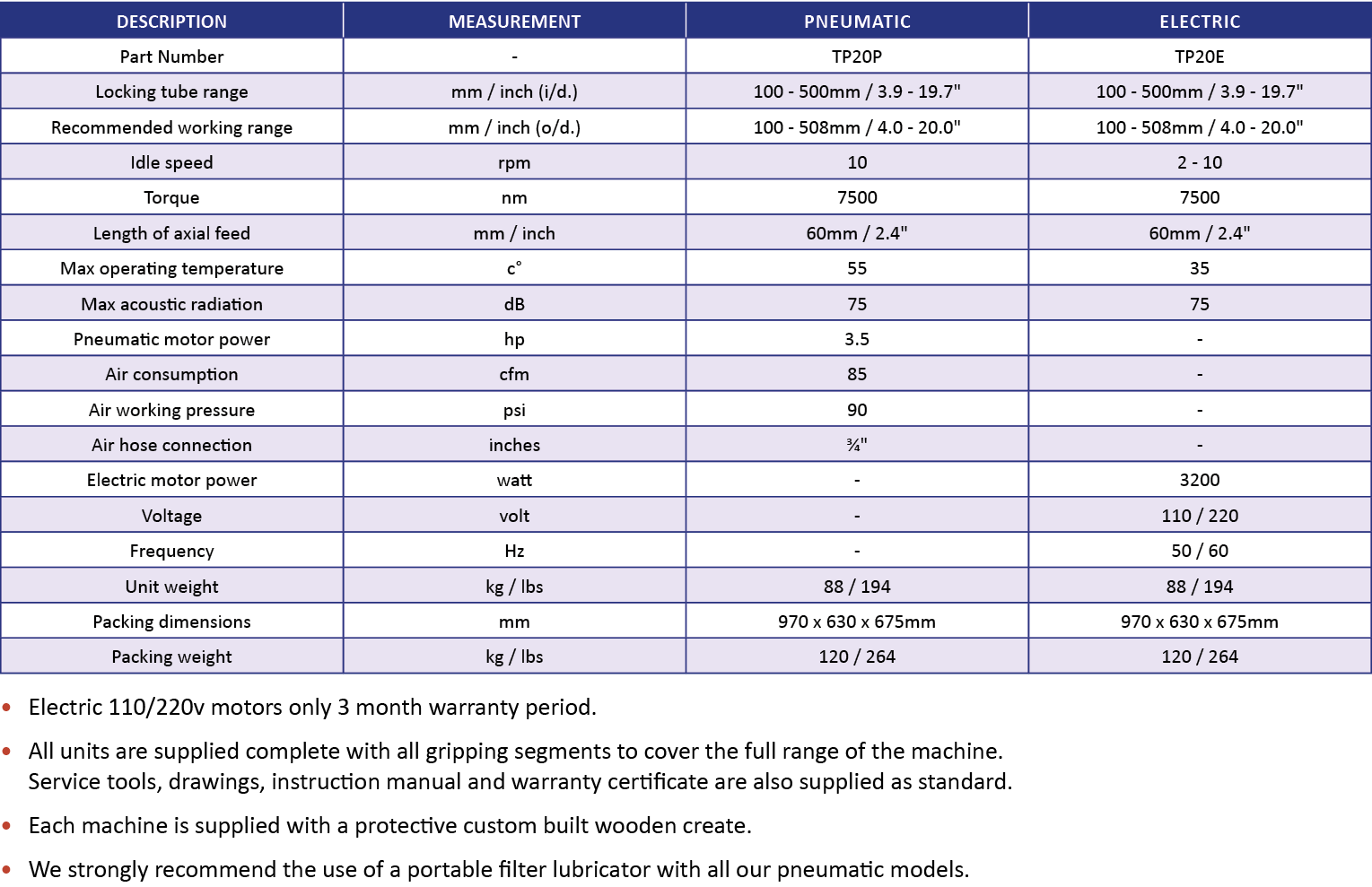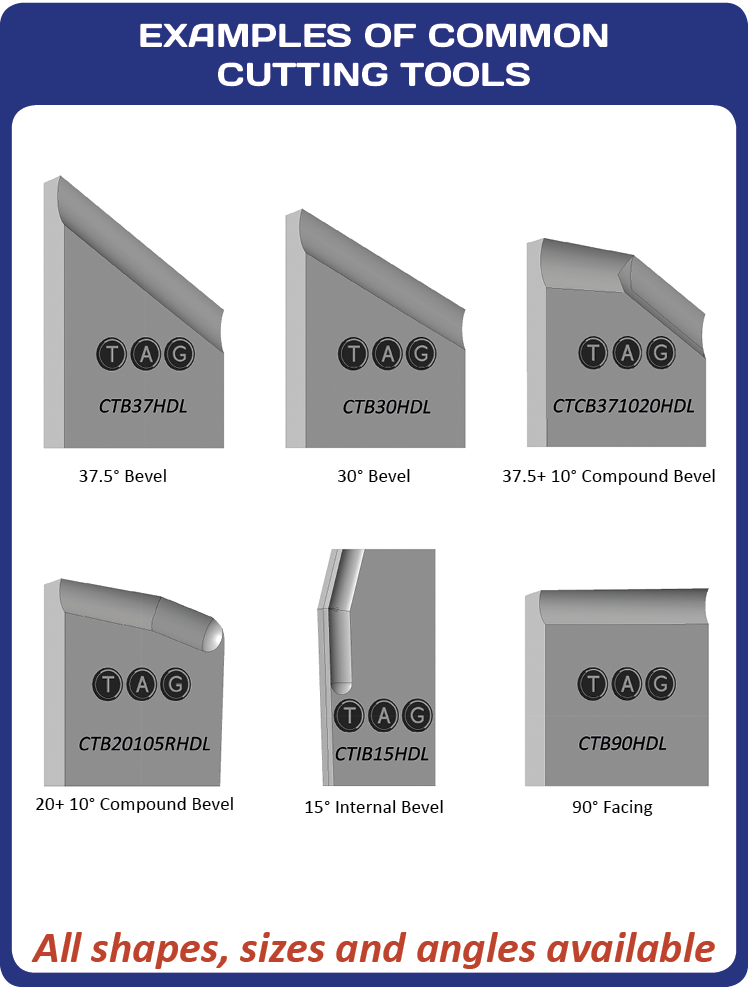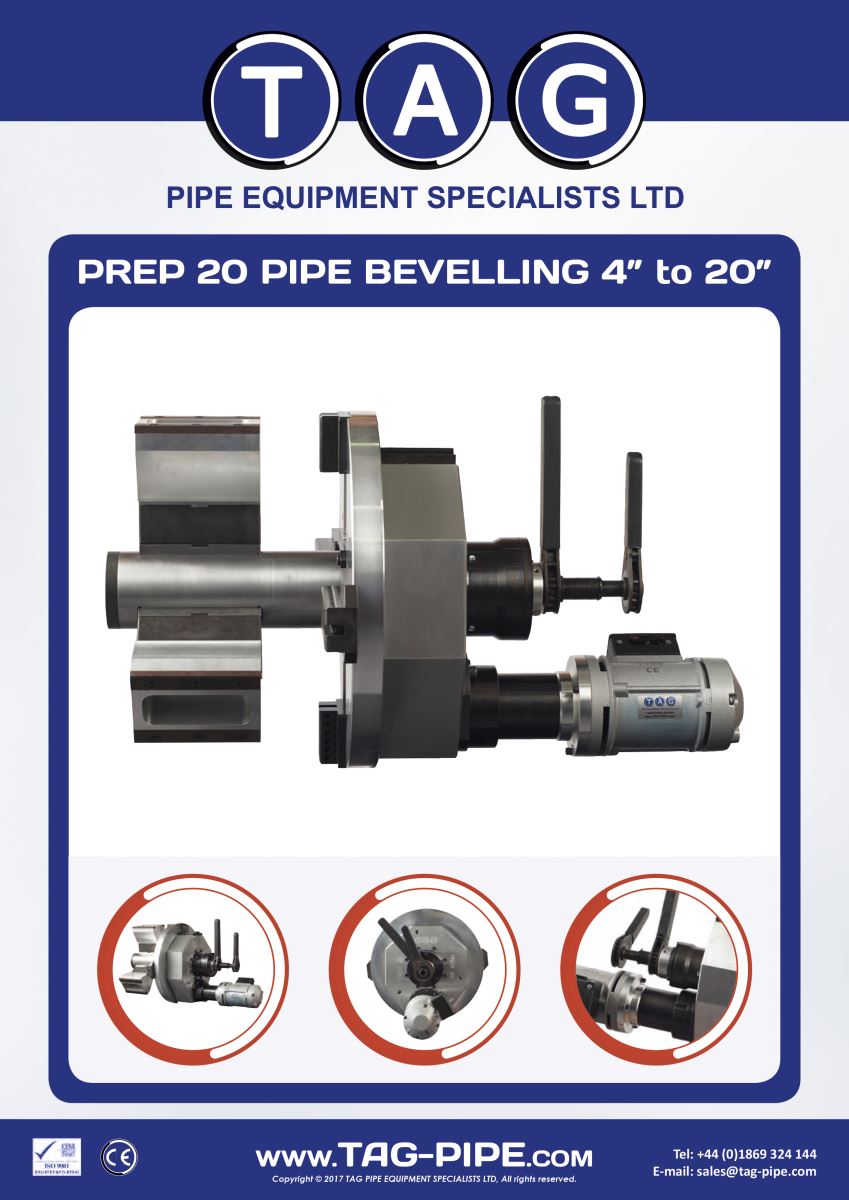 Pipe Bevelling Machines
prev
next
Featured News
SEND US YOUR PICTURES AND RECEIVE A £50 DISCOUNT OFF
e-mail us some pictures of our equipment in use, and if we use them on the website, or in any of our literature we'll give you a £50 credit against your next order!!!
Featured News
OUT NOW!
THE NEW 'E-Z' FIT RED PIPE CLAMP!
The latest addition to TAG Pipe's range - rapid fit up, pipe-welding alignment clamps, is the latest version of the 'E-Z' Fit Red. Boasting a range of 1" to 12" in just 3 clamps! The new 'E-Z' Fit Red can be used on stainless steel without any additional accessories, preventing contamination of the pipe during fit up.