The E-Z Cut 3D portable oxy-fuel cutting machine can cut in versus angle and shapes.
From flat to curved and shaped surfaces, including channel, pipes and vessels, shipbuilding, plate and angled steel.
The E-Z Cut 3D portable oxy-fuel cutting machine is very compact and light, easy to handle and transport, making it ideal for ship, vessel, dome and tank/building or repair.
Features and Benefits
All position oxy-fuel cutting
Cuts flat, bended, or twisted steel plates in all positions and directions.
Permanent magnet rails
Secures rail to plate; allows the rail to be used vertically.
Clutch lever
Allows quick positioning of machine on rail.
Amazingly light weight
Only 4.5kg and compact; machine can be carried easily to anywhere.
3D 1000mm long, Extendable Flex Track
Ideal for making straight and curved cuts in 1, 2 and 3D.
Extendable track enables cutting of long, shaped and contoured steel but with 1500 (60") - 2000mm (80") minimum curve radius.
The 3D 1000 mm flex track rail is made out of specialized rubber that can handle the heat coming out from the oxy-fuel cutting process.
The track comes standard with 5 permanent magnets.
E-Z Cut 3D Portable Oxy-fuel Cutting Machines can be used for the following gas-mix:
Acetylene / Propane / Natural / Ethylene / Mapp
Available in 110v or 220v power supply.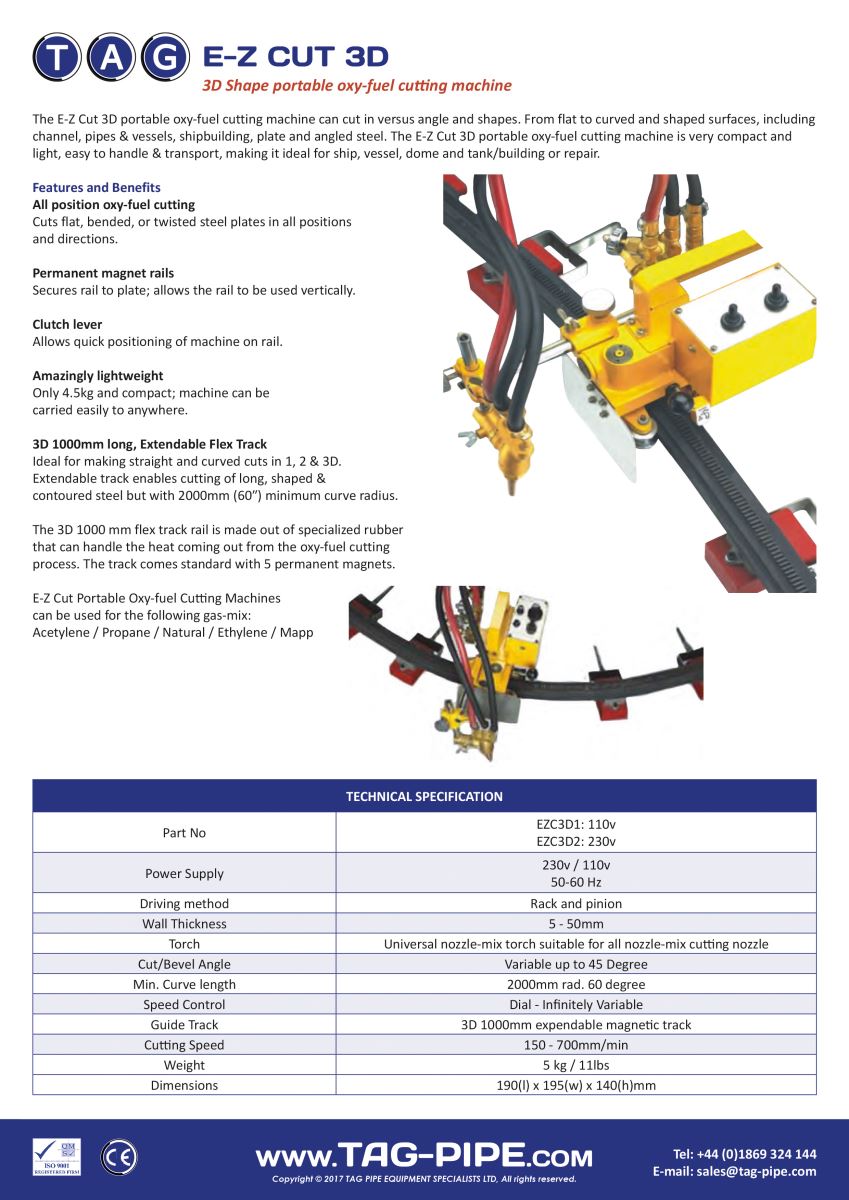 Bevelling Machines
prev
next
Featured News
SEND US YOUR PICTURES AND RECEIVE A £50 DISCOUNT OFF
e-mail us some pictures of our equipment in use, and if we use them on the website, or in any of our literature we'll give you a £50 credit against your next order!!!
Featured News
OUT NOW!
THE NEW 'E-Z' FIT RED PIPE CLAMP!
The latest addition to TAG Pipe's range - rapid fit up, pipe-welding alignment clamps, is the latest version of the 'E-Z' Fit Red. Boasting a range of 1" to 12" in just 3 clamps! The new 'E-Z' Fit Red can be used on stainless steel without any additional accessories, preventing contamination of the pipe during fit up.