Why Purge?
When welding stainless steel, titanium and other corrosion resistant materials, the perfect environment for welding is paramount to maintaining the corrosion resistant properties.
During the welding process, the weld seam is subjected to heat and air which causes oxidation, if the correct processes are not adhered to.
For the best results, oxidation must be prevented.
The quality of the exotic corrosion resistant material welding is dependent on the correct purging methods to minimise or eliminate oxidation.
Weld Quality
The effective welding of stainless steel, titanium and other exotic materials for the nuclear, petrochemical, pharmaceutical, semi-conductor, aerospace and food industries requires the proper tools to create a perfect weld environment.
Purging equipment and its use has a major impact on preventing oxidation and improving final weld quality.
The basic principles of purging can be seen below.
TAG supply a comprehensive range of systems to create the correct welding environment, whatever the application.

Principles of Purging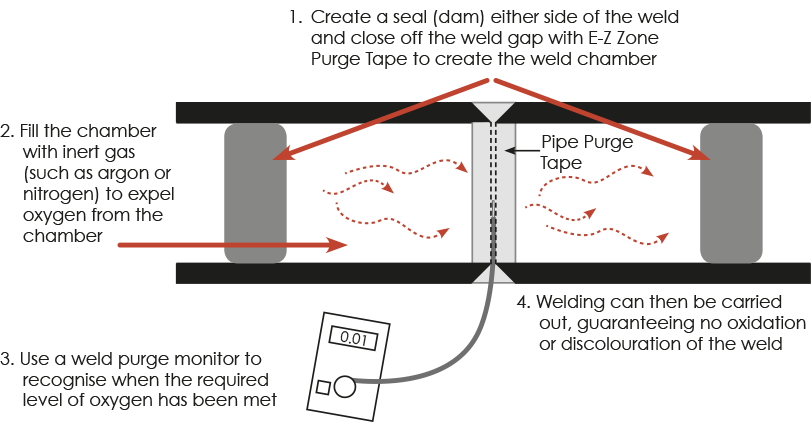 Pipe Purging Equipment
prev
next
Featured News
SEND US YOUR PICTURES AND RECEIVE A £50 DISCOUNT OFF
e-mail us some pictures of our equipment in use, and if we use them on the website, or in any of our literature we'll give you a £50 credit against your next order!!!
Featured News
OUT NOW!
THE NEW 'E-Z' FIT RED PIPE CLAMP!
The latest addition to TAG Pipe's range - rapid fit up, pipe-welding alignment clamps, is the latest version of the 'E-Z' Fit Red. Boasting a range of 1" to 12" in just 3 clamps! The new 'E-Z' Fit Red can be used on stainless steel without any additional accessories, preventing contamination of the pipe during fit up.