TAG Aluminium Expanding Pipe Stoppers
Sizes: 1½" - 24" (40mm - 600mm)
(Larger sizes available upon request - up to 72" (1829mm))
To complement the range of nylon expanding plugs, we offer all sizes of aluminium plugs.
These are provided in sizes from 1½" upwards and are suitable for more arduous duties such as immersion in chemicals and/or higher temperatures.

TAG Aluminium Expanding Pipe Stoppers
Expandable test plugs for purging and general pipe blocking
Pipe stoppers, or drain plugs as they are sometimes known, are used to temporarily seal the end of a pipe or opening for many different testing applications. Pipe stoppers are mainly used to seal off from water, gases and foreign objects in newly laid pipes, or pipework systems that are under repair.
TAG Pipe Purge System range of Pipe stoppers are available in a number of different styles to suit many applications for pipe sizes from ½ to 72". Special Pipe stoppers are also available for pressure testing.
How it works
A central spindle/shaft on which two plates are fitted with a natural rubber tyre (ring) between them, a wing nut on the shaft moving the two plates together compressing the tyre and making the seal in the pipe. These stoppers can also be supplied with a hollow shaft version for screwing on standard hose connections or for using fixed or free nipple caps.
Expandable Pipe Stoppers are available in three different types.
All plugs conform to British Standards BS8005 for low pressure testing and sealing of pipes.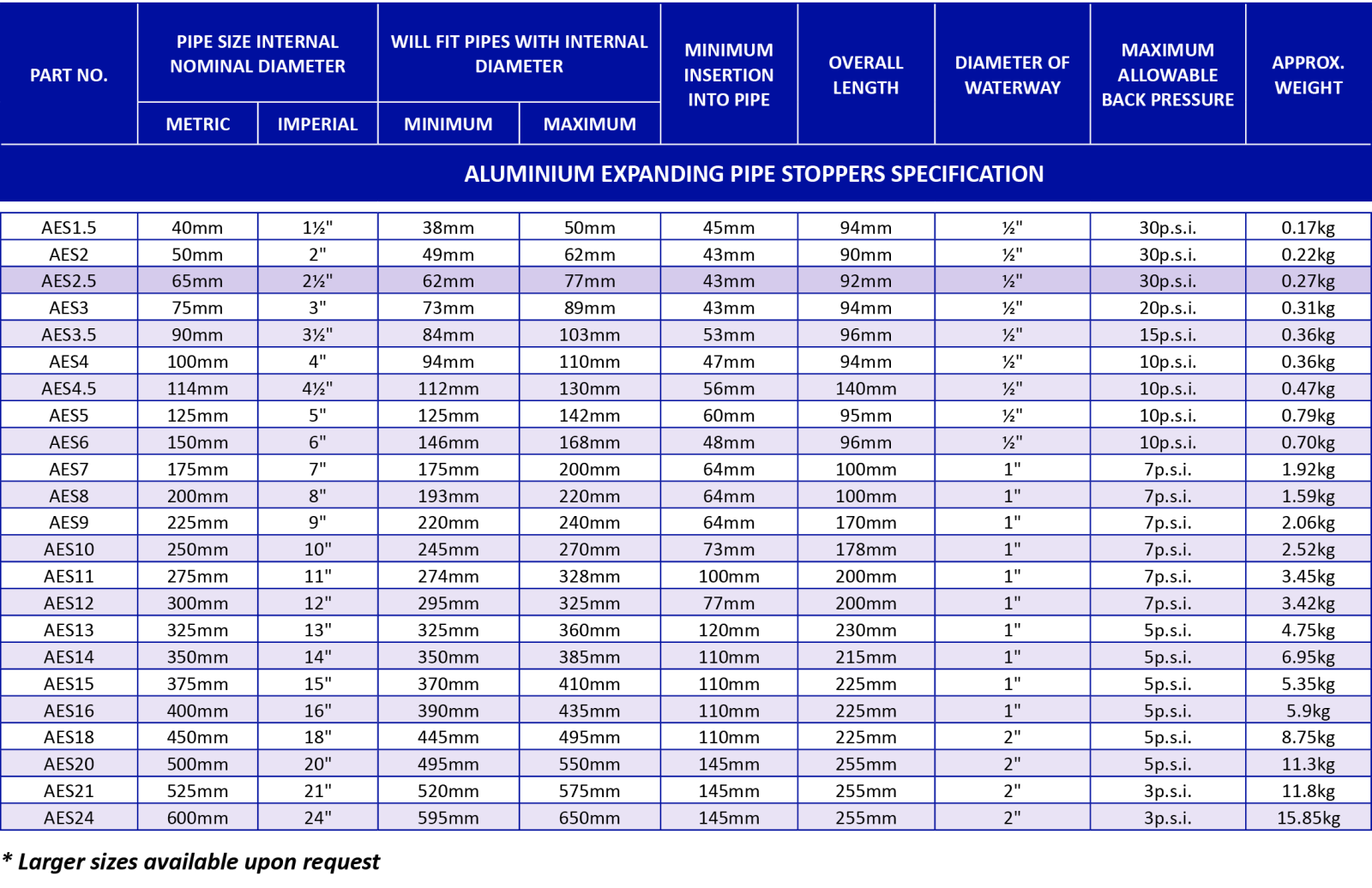 Pipe Stoppers
prev
next

Mathey Dearman Inc., B&B Pipe and Industrial Tools LLC, and TAG Pipe Equipment Specialist Ltd. are proud to announce the merging of the three companies into one business. While the strong brand names will continue, the new organization will be named Specialized Fabrication Equipment Group, or The S.F.E. Group.