TAG Steel Expanding Pipe Stoppers
Sizes: 1½" - 24" (40mm - 600mm)
(Larger sizes available upon request - up to 72" (1829mm))
TAG Pipe Purge System also manufacture a range of Steel plugs from 1½" to 72" in diameter.
These plugs are typically suitable for more arduous duties such as long immersion in water and use at higher temperatures or for contact with acidic or alkaline environments for which the Nylon and Aluminium plugs may be unsuitable.

TAG Steel Expanding Pipe Stoppers
Expandable test plugs for purging and general pipe blocking
Pipe stoppers, or drain plugs as they are sometimes known, are used to temporarily seal the end of a pipe or opening for many different testing applications. Pipe stoppers are mainly used to seal off from water, gases and foreign objects in newly laid pipes, or pipework systems that are under repair.
TAG Pipe Purge System range of Pipe stoppers are available in a number of different styles to suit many applications for pipe sizes from ½ to 72". Special Pipe stoppers are also available for pressure testing.
How it works
A central spindle/shaft on which two plates are fitted with a natural rubber tyre (ring) between them, a wing nut on the shaft moving the two plates together compressing the tyre and making the seal in the pipe. These stoppers can also be supplied with a hollow shaft version for screwing on standard hose connections or for using fixed or free nipple caps.
Expandable Pipe Stoppers are available in three different types.
All plugs conform to British Standards BS8005 for low pressure testing and sealing of pipes.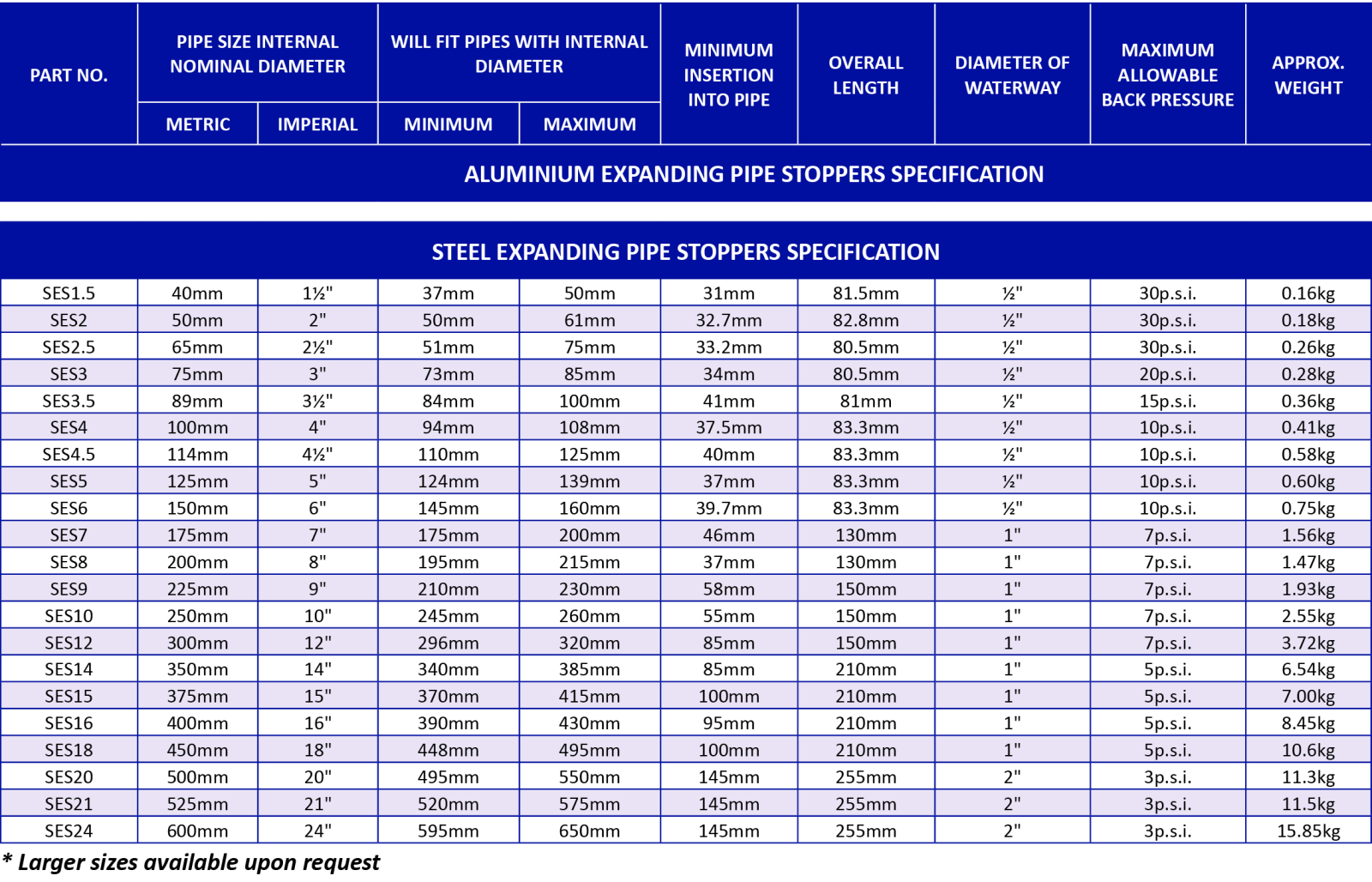 Pipe Stoppers
prev
next
Featured News
SEND US YOUR PICTURES AND RECEIVE A £50 DISCOUNT OFF
e-mail us some pictures of our equipment in use, and if we use them on the website, or in any of our literature we'll give you a £50 credit against your next order!!!
Featured News
OUT NOW!
THE NEW 'E-Z' FIT RED PIPE CLAMP!
The latest addition to TAG Pipe's range - rapid fit up, pipe-welding alignment clamps, is the latest version of the 'E-Z' Fit Red. Boasting a range of 1" to 12" in just 3 clamps! The new 'E-Z' Fit Red can be used on stainless steel without any additional accessories, preventing contamination of the pipe during fit up.