TAG Pro Point Plus Tungsten Grinder
The ultimate in electrode grinding for optimal TIG Welding
The Pro Point Plus is a unique wet tungsten electrode grinding machine, and offers the most precise and environmentally friendly way of preparing Tungsten electrodes for TIG welding.
The Pro Point Plus is constructed with a unique disposable container, which automatically collects all toxic dust particles, eliminating the need for any separate extraction systems. The container can then be safely disposed of in accordance with regulations.
A precise angle is paramount to producing the high quality of the weld seams and also increases the number of reignitions between grinding, thus improving productivity and prolonging the life of the electrode.
Using the Pro Point Plus, it is simple to produce the exact angle required. A unique digital angle display and special locking device allows the operator to position the electrode precisely, and the grinding is carried out in the correct longitudinal direction along the electrode.
Download our Pro Point Plus Tungsten Grinder Catalogue Here

Features and Advantages
3 grinding positions on the grinding wheel, effectively tripling the grinding life of the wheel
Longitudinal Grinding of electrodes for the best results
Cold wet grinding combined with the diamond wheels' high grinding speed ensure that the tungsten electrode always has a polished and even surface
Easy, safe disposal of hazardous grinding dust in the replaceable cartridge
Digital angle setting for quick reference and repeatable accuracy
Tungsten as short as 10mm can be ground ensuring minimal wastage and making the Pro Point Plus perfect for orbital welding applications
No tools are needed for the easy removal of the waste container for its safe disposal
Set up the grinder and re-produce the same electrode over and over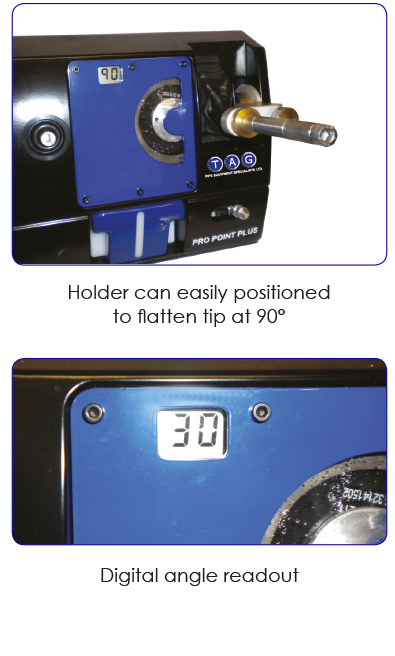 TAG Pro Point Plus Tungsten Grinder Options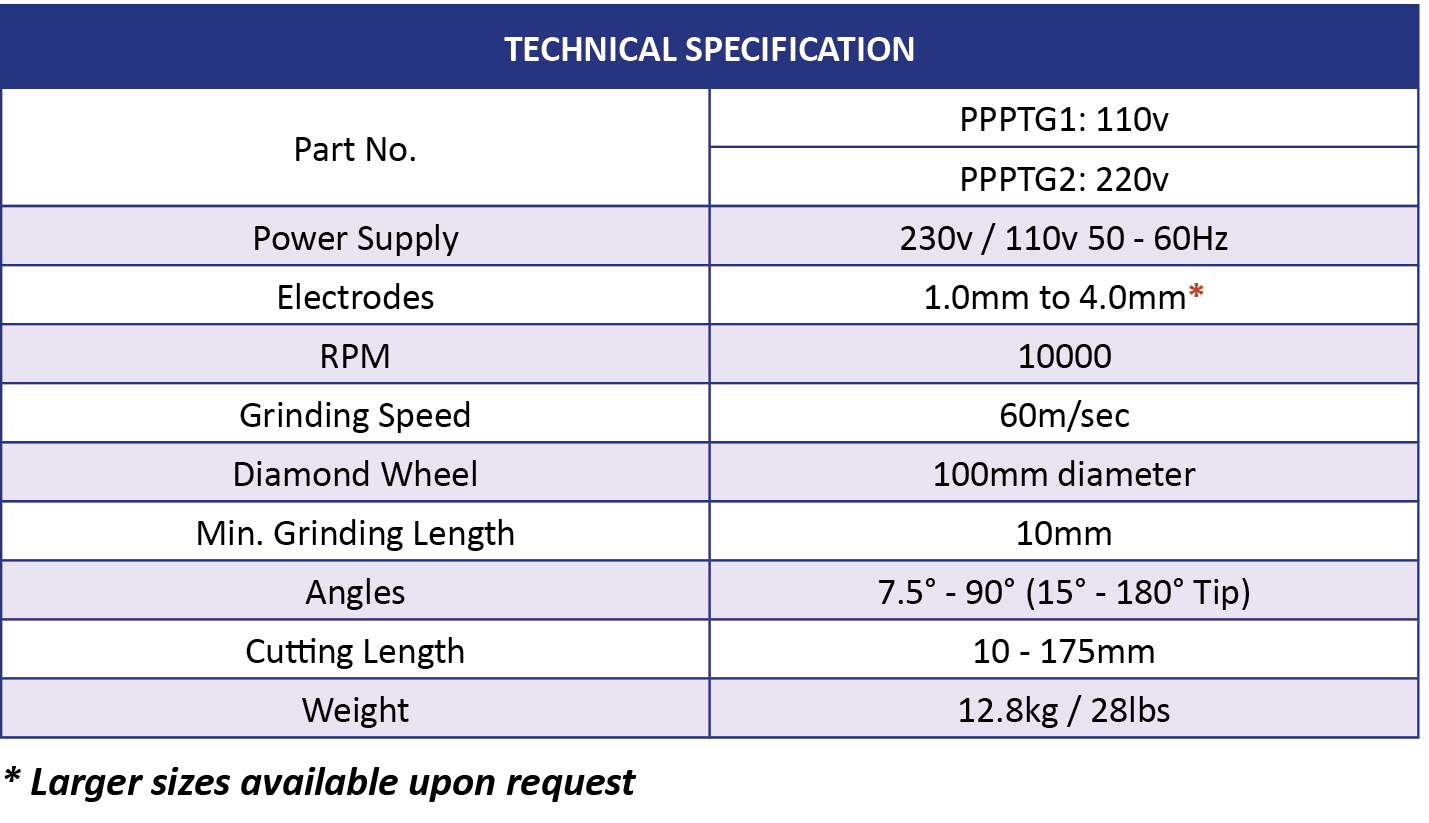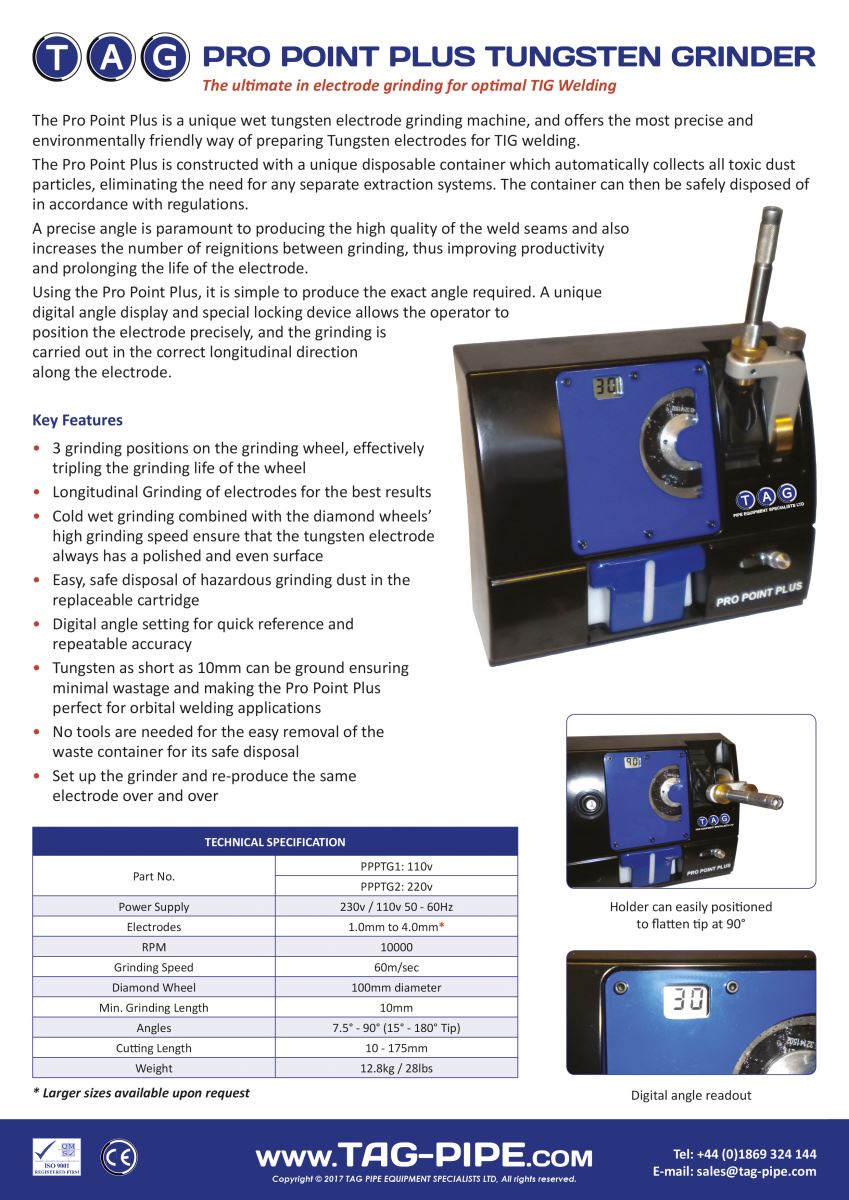 Tungsten Grinders
prev
next
Featured News
SEND US YOUR PICTURES AND RECEIVE A £50 DISCOUNT OFF
e-mail us some pictures of our equipment in use, and if we use them on the website, or in any of our literature we'll give you a £50 credit against your next order!!!
Featured News
OUT NOW!
THE NEW 'E-Z' FIT RED PIPE CLAMP!
The latest addition to TAG Pipe's range - rapid fit up, pipe-welding alignment clamps, is the latest version of the 'E-Z' Fit Red. Boasting a range of 1" to 12" in just 3 clamps! The new 'E-Z' Fit Red can be used on stainless steel without any additional accessories, preventing contamination of the pipe during fit up.