TAG HIGH SPEED CUTTING AND BEVELLING MACHINE
2" - 24" (50mm - 610mm)
Automated, super fast, CNC operated pipe cutting and double bevelling machine. The perfect machine for bulk pipe work prefabrication. This machine has a fully automated front and back clamping systems, automatic feeding, built in coolant system, all being controlled by a touch screen computer with programmed, easy to use pre-set parameters for all jobs.
Download our TAG High Speed Cutting and Bevelling Machine  Catalogue Here

FEATURES
A high speed pipe cutting and bevelling machine, CNC controlled with simple pre-set programmes
For high productivity pipeline prefabrication, cutting and bevelling or cutting and double bevelling simultaneously
Both front and back hydraulic clamping systems, with automatic self centering
Built-in automatic recycling coolant system, increasing the life and performance of the tools
Automatic height up/down adjustment on the pipe conveyor system to set the pipe to the correct centre height of the machine.
Independent servo motor driven conveyor to move the pipe backward and forwards to the desired cut position
All cutting and bevelling operations are CNC controlled, via simple settings on the touch screen. The cutting tool will automatically feed into the cut and bevel and will automatically retract at the end of the cut and bevel. The feed rate of the cutting tools can also be adjusted automatically by the CNC programme, dependant on the pipe diameter, wall thickness and material.
The machine can be used for all materials including super duplex, carbon steel, stainless steel and alloy steel pipes, any angle of bevel can be produced such as 'U', 'V' and 'Y'.
High speed cutting and bevelling e.g. 10" x 23mm wall thickness cut and bevelled. Time:  3 minutes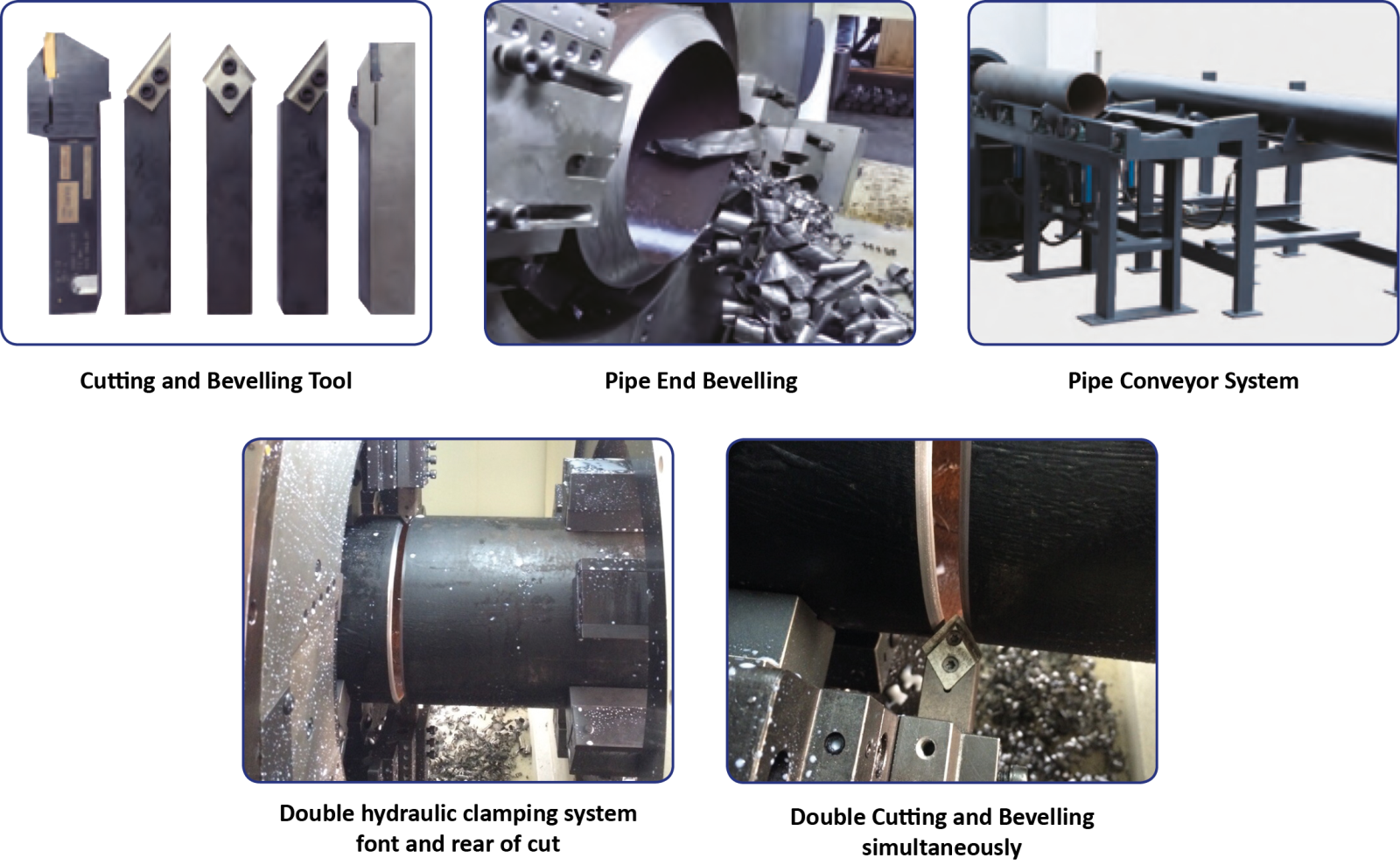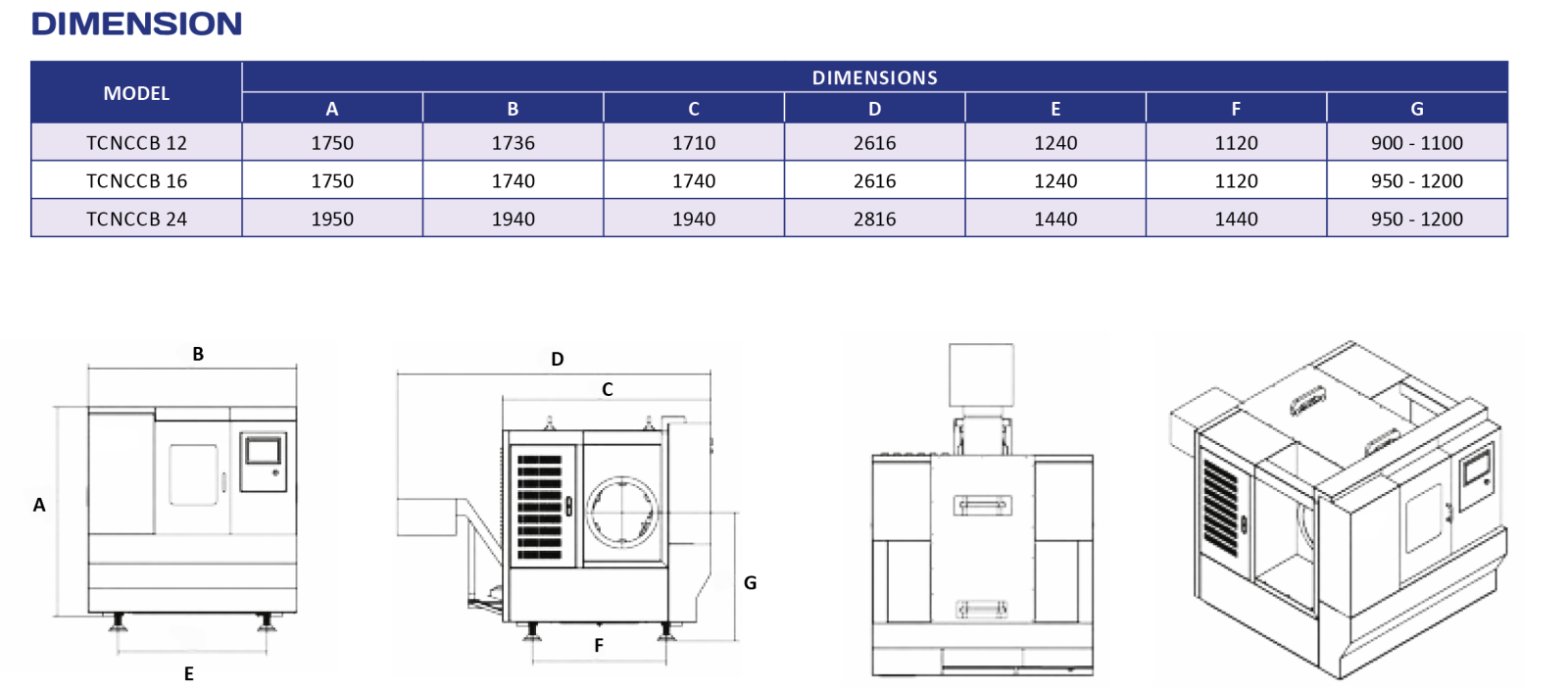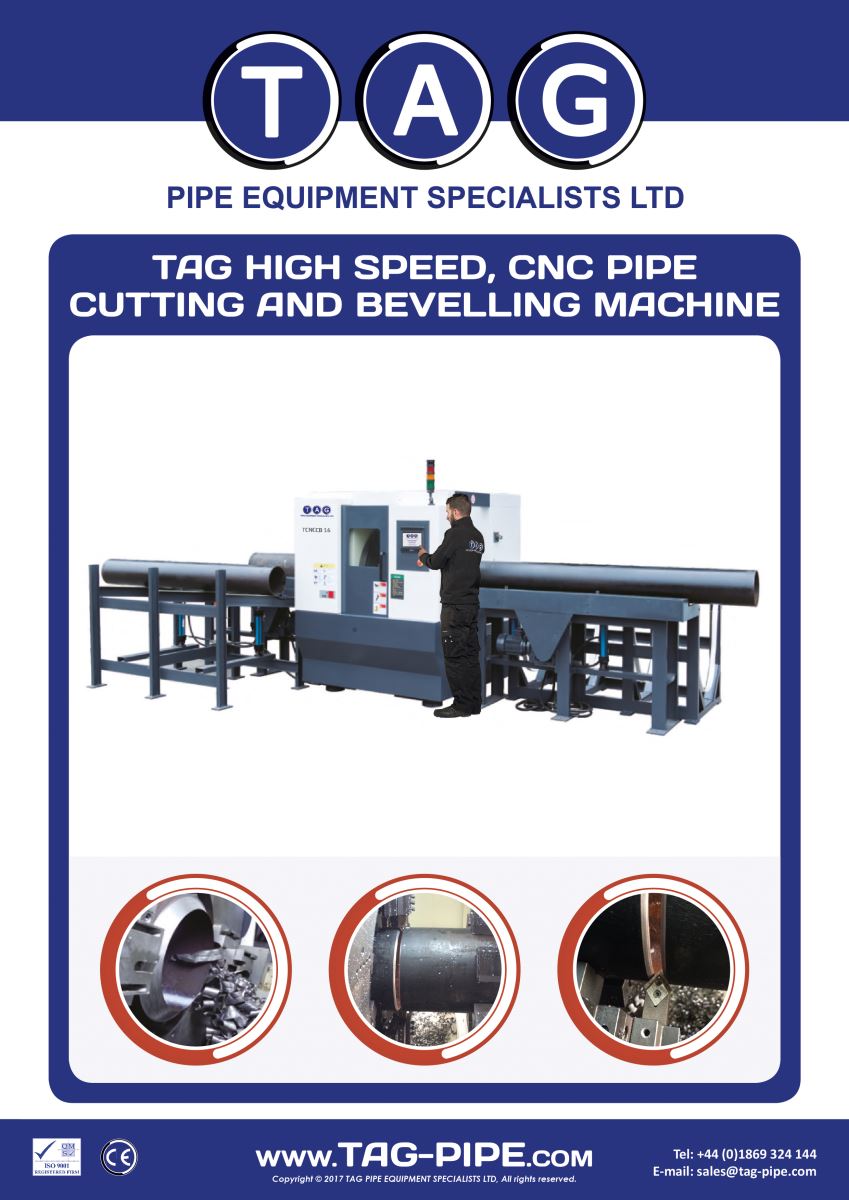 Pipe Bevelling Machines
prev
next

Mathey Dearman Inc., B&B Pipe and Industrial Tools LLC, and TAG Pipe Equipment Specialist Ltd. are proud to announce the merging of the three companies into one business. While the strong brand names will continue, the new organization will be named Specialized Fabrication Equipment Group, or The S.F.E. Group.