TAG PIPE BEVELLING MACHINE - PREP 24
(from 7″ to 24″)
A powerful, heavy duty electric or pneumatic motor drives a reduction gearbox converting 3.5 HP into 12500 Nm of torque!! Rigidity and unrivalled bevelling strength are ensured with a 5.9″ Locking Shaft with built in plug jaws, a bolt in 6 point locking system allows the PREP 24 to cover an impressive range of 7″ to 24″! Both locking and feeding are controlled by ratchet, enabling the operator to lock into the pipe in seconds, and provide a consistent bevel feed, for the perfect surface finish, even on heavy wall pipes.
Download our TAG PREP 24 Machine Catalogue Here


TAG Pipe Bevelling Machine PREP 24
RANGE: 180 to 600mm i/d
Functions:
External Bevelling
Internal Bevelling
Facing
Counter-boring
Weld Removal
J-Prepping
Compound Bevels
Materials:
Any kind of Steel and Exotic Alloy
Power:
Pneumatic (option of Electric 110v or 220v)
Features & Advantages
The PREP 24 is the largest in TAG's new range of a heavy duty mid-large diameter bevelling machines. Offering ratchet i/d jaw locking, as well as Ratchet bevel feed control for effortless heavy wall preps. Offered with a 3.5 HP Pneumatic boasting 12500Nm Torque or 3200 watt electric motor any bevel geometry can be performed within the impressive 7 - 24" range with optional extension kit up to 42". J-preps, counter boring, and facing can all be performed, simultaneously, using the correct tooling fitted in (up to) 4 heavy duty hardened multi-position tool holders. Due to its light weight, yet unrivalled power, the PREP 24 is ideal for on-site, off shore, nuclear, and other applications were precision welds are required at an incredible value. The PREP 24, like the PREP 16 and PREP 20 utilise ratchet feed, and locking. This allows effortless setup, and enables the operator to deliver consistent feed with minimal effort.


TAG Pipe Bevelling Machine PREP 24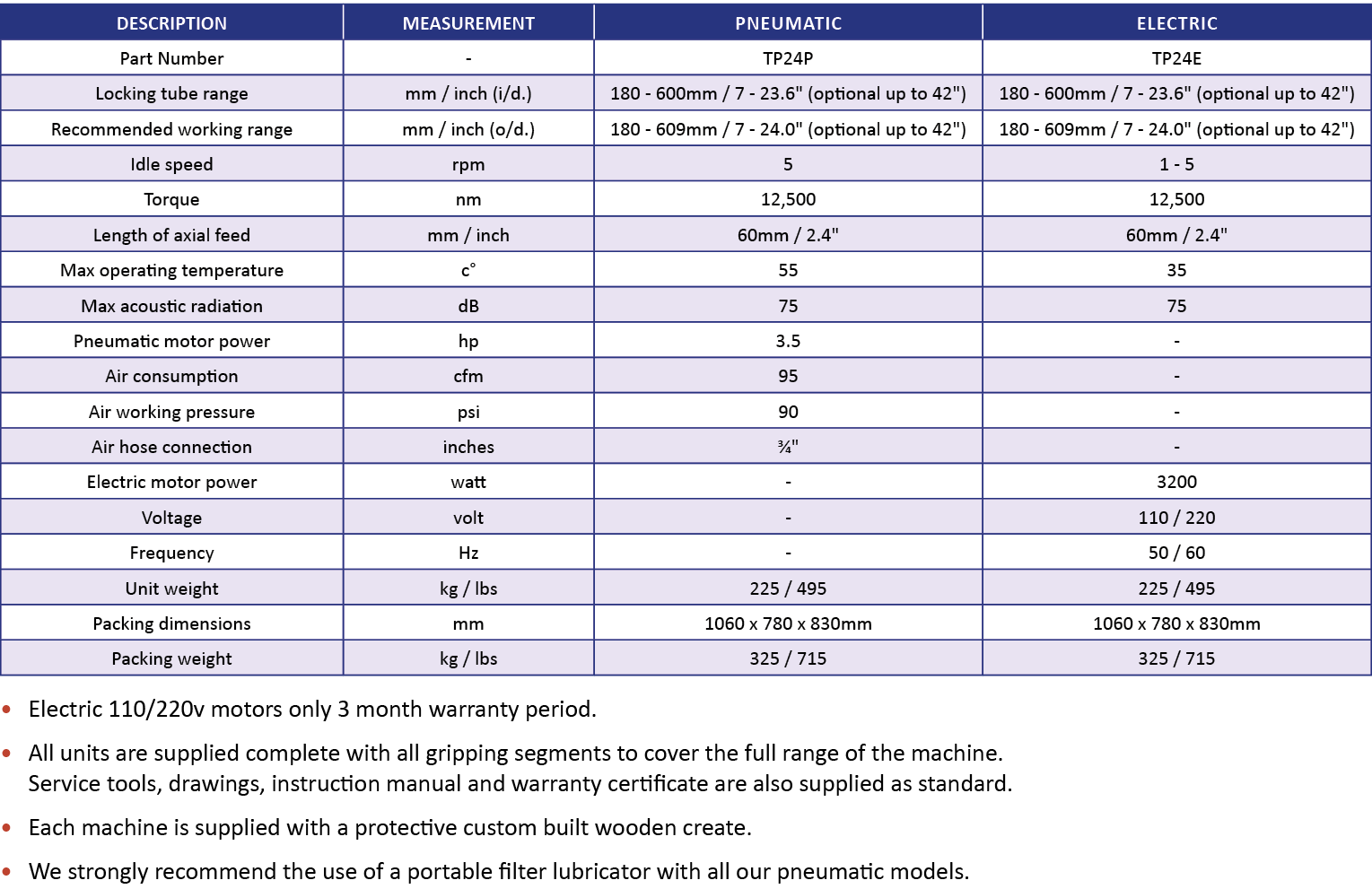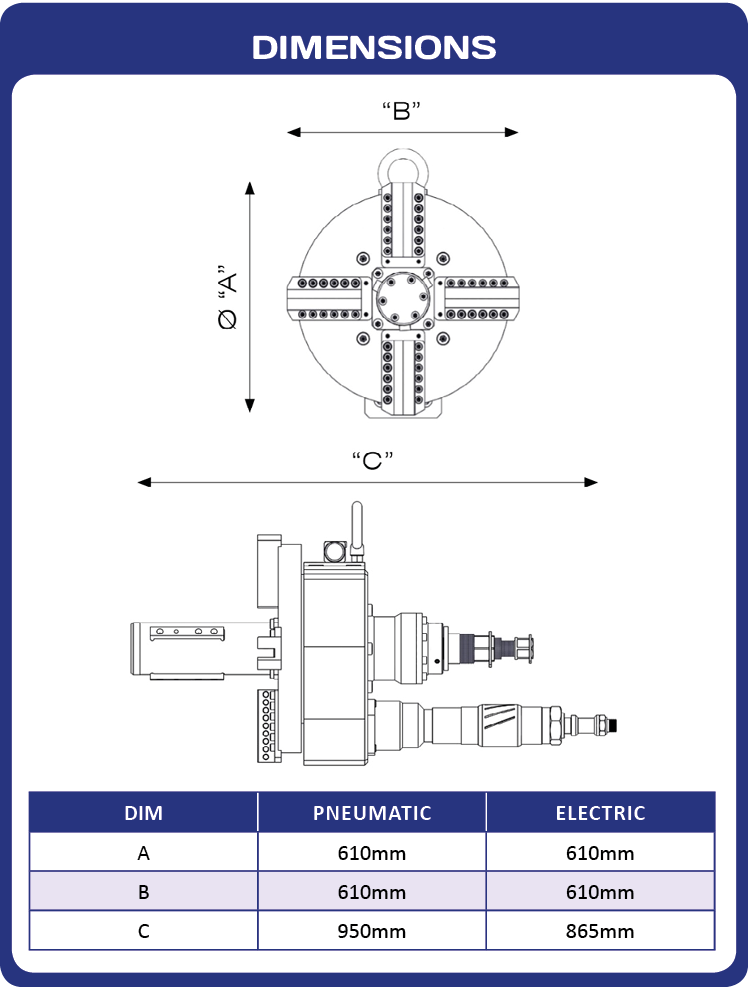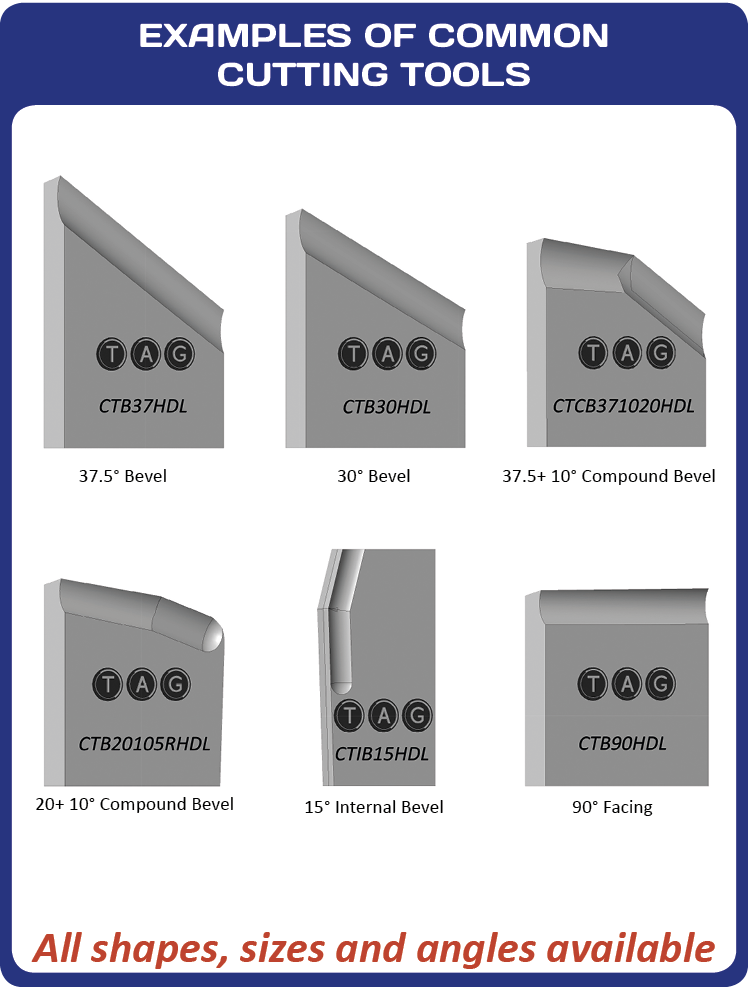 Pipe Bevelling Machines
prev
next

Mathey Dearman Inc., B&B Pipe and Industrial Tools LLC, and TAG Pipe Equipment Specialist Ltd. are proud to announce the merging of the three companies into one business. While the strong brand names will continue, the new organization will be named Specialized Fabrication Equipment Group, or The S.F.E. Group.